My Blog
Posts for tag: cosmetic dentistry
By Thomas Family Dental
February 01, 2018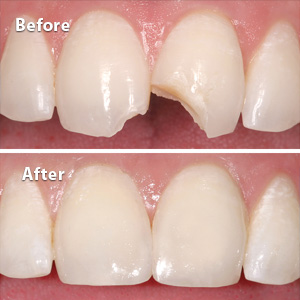 You have a winning smile except for one small flaw — one of your front teeth is chipped. In functional terms the defect is insignificant: your tooth is healthy and can still do its job. But with regard to your smile that chip is like a smudge on a masterpiece painting: it stands out — and not in a good way.
The good news is you have options to repair the chip and vastly improve your appearance. One option is to bond a custom porcelain veneer to the outside of the tooth to cover the chip. But that would also mean removing a slight bit of tooth enamel so the veneer won't appear too bulky. Although not as much as with a crown, the alteration still permanently affects the tooth — it will always require a restoration of some kind.
There's another choice that doesn't involve removing any of your enamel: composite resin. This treatment is a mixture of materials with a glass-like binder in liquid form that we apply to a tooth in successive coats. As we build up the layers we can match the tooth's shape, texture and various shades of its natural color. We're able to fill in the defect and make the tooth appear as natural as possible.
Unlike porcelain restorations, composite resins don't require a dental lab or a period of weeks to prepare. We can transform your simile in our office in as little as one visit.
Composite resin isn't the answer for every tooth defect. Teeth that have become worn, fractured or have undergone a root canal treatment are best treated with a porcelain restoration such as a veneer or crown. But where the defect is relatively minor, composite resin may be the answer.
To learn if you can benefit from a composite resin restoration, you'll need to undergo a dental exam. If we determine you're a candidate, we can use this state-of-the-art dental material to make your teeth look flawless.
If you would like more information on composite resins, please contact us or schedule an appointment for a consultation. You can also learn more about this topic by reading the Dear Doctor magazine article "Artistic Repair of Front Teeth with Composite Resin."
By Thomas Family Dental
October 03, 2017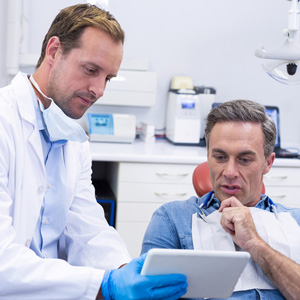 Most of us wouldn't think of buying a new car without a "test drive." It's a serious investment, so you want to make sure you're comfortable with your new ride.
Like an auto purchase, the plan you and your dentist agree on to cosmetically enhance your teeth and gums — a "smile makeover" — is a significant investment. Wouldn't it be nice to "test drive" your future smile before you undergo any procedures?
Actually, you can — two ways, in fact. For one, your dentist could use computer imaging software that alters a photo of your face to show how your smile will appear after dental work. These computer enhancements are a great planning tool for making decisions on the look you want to achieve.
But even the best computer images only provide a static, two-dimensional representation of your new smile. It can't capture all the angles and movement dynamics of any proposed changes. That's where the other way, a trial smile, is a true test drive — you can see your future smile in action.
With a trial smile, your dentist temporarily places tooth-colored material called composite resin on your teeth to simulate the proposed changes. The resin can be shaped and sculpted to create a life-like replica that you'll be able to view in all three spatial dimensions. What's more it will give you a chance not only to see what your new smile will look like, but to actually experience how it feels in your mouth.
Creating a trial smile is an added expense and it's only available during your consultation visit — the dentist will need to remove the resin before you leave. But you'll still be able to get a good impression of what your final smile will be like. You'll also be able to take photos you can show to family and friends to get their impressions of your proposed new look.
A trial smile allows you to know beforehand what your dental work investment will provide you, and even fine-tune your makeover plan before work begins. With this particular kind of "test drive" you'll have greater assurance that you'll be happy and satisfied with the end results.
If you would like more information on trial smiles, please contact us or schedule an appointment for a consultation. You can also learn more about this topic by reading the Dear Doctor magazine article "Testing Your Smile Makeover."
By Thomas Family Dental
March 06, 2017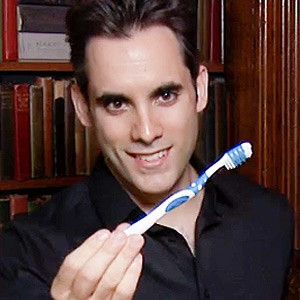 Magician Michel Grandinetti can levitate a 500-pound motorcycle, melt into a 7-foot-tall wall of solid steel, and make borrowed rings vanish and reappear baked inside bread. Yet the master illusionist admits to being in awe of the magic that dentists perform when it comes to transforming smiles. In fact, he told an interviewer that it's "way more important magic than walking through a steel wall because you're affecting people's health… people's confidence, and you're really allowing people to… feel good about themselves."
Michael speaks from experience. As a teenager, his own smile was enhanced through orthodontic treatment. Considering the career path he chose for himself — performing for multitudes both live and on TV — he calls wearing an orthodontic device (braces) to align his crooked teeth "life-changing." He relies on his welcoming, slightly mischievous smile to welcome audiences and make the initial human connection.
A beautiful smile is definitely an asset regardless of whether you're performing for thousands, passing another individual on a sidewalk or even, research suggests, interviewing for a job. Like Michael, however, some of us need a little help creating ours. If something about your teeth or gums is making you self-conscious and preventing you from smiling as broadly as you could be, we have plenty of solutions up our sleeve. Some of the most popular include:
Tooth Whitening. Professional whitening in the dental office achieves faster results than doing it yourself at home, but either approach can noticeably brighten your smile.
Bonding. A tooth-colored composite resin can be bonded to a tooth to replace missing tooth structure, such a chip.
Veneers. This is a hard, thin shell of tooth-colored material bonded to the front surface of a tooth to change its color, shape, size and/or length; mask dental imperfections like stains, cracks, or chips, and compensating for excessive gum tissue.
Crowns. Sometimes too much of a tooth is lost due to decay or trauma to support a veneer. Instead, capping it with a natural-looking porcelain crown can achieve the same types of improvements. A crown covers the entire tooth replacing more of its natural structure than a veneer does.
If you would like more information about ways in which you can transform your smile, please contact us or schedule an appointment for a consultation. You can also learn more about the techniques mentioned above by reading the Dear Doctor magazine articles "Teeth Whitening," "Repairing Chipped Teeth," and "Porcelain Crowns & Veneers."